APP STRUCTURE
It is worth mentioning that the design guidelines were in their very early stage at that point and have expanded tremendously since. At a first glance (pun intended), it felt challenging to imagine the watch's design patterns with its notifications, short looks, long looks, glances and alerts without being able to actually interact with the device. But after some time of experimenting, several emails from the device's creators along with a multitude of iterations, we were well on our way to creating the app's structure.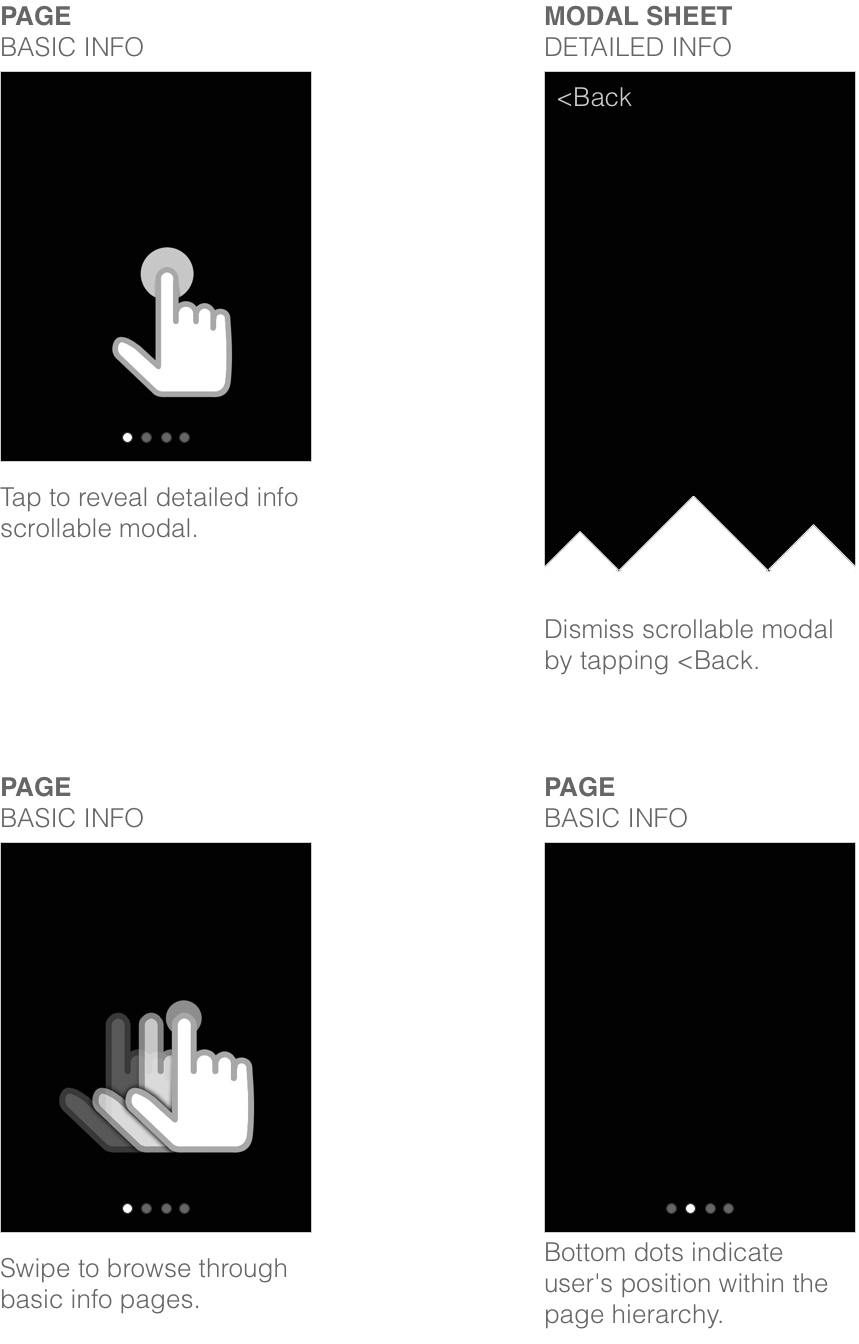 THE CONTENT
Given the project's short time frame, the next step was to identify the most relevant and useful information to the users. We had to go with our previous knowledge of the mobile app and a bit of gut feeling on this. We knew that different pieces of information were relevant to travelers at different stages of their trips, but it was impossible to cram all of that data into the watch's tiny display. Through collaborative brainstorming sessions we decided to imagine an average user's trip and extract only the most critical snippets of information from it.
FLIGHT INFORMATION
The natural first choice was the Flight Information screen, since it's usually the first main step of any trip. But what information do we look for a day, the morning of, three hourse before our flight? How about once we're at the airport or on the plane? The level of detail of course varies in each of these scenarios, but the basics remain the same - When am I flying? Where am I flying? Is my flight on time? What gate does it depart from? What's my seat number?

It seems like a lot of relevant information to fit into a roughty 4cm² display. Use of color was important in accomplishing that. The green in the following examples is meant to communicate a hassle-free event. In case of delayed or canceled flights, or other unforseen events, the idea was to use warning colors such as orange or red. The ability to hide more information within scrollable modal sheets accessed by the Details button also proved very useful.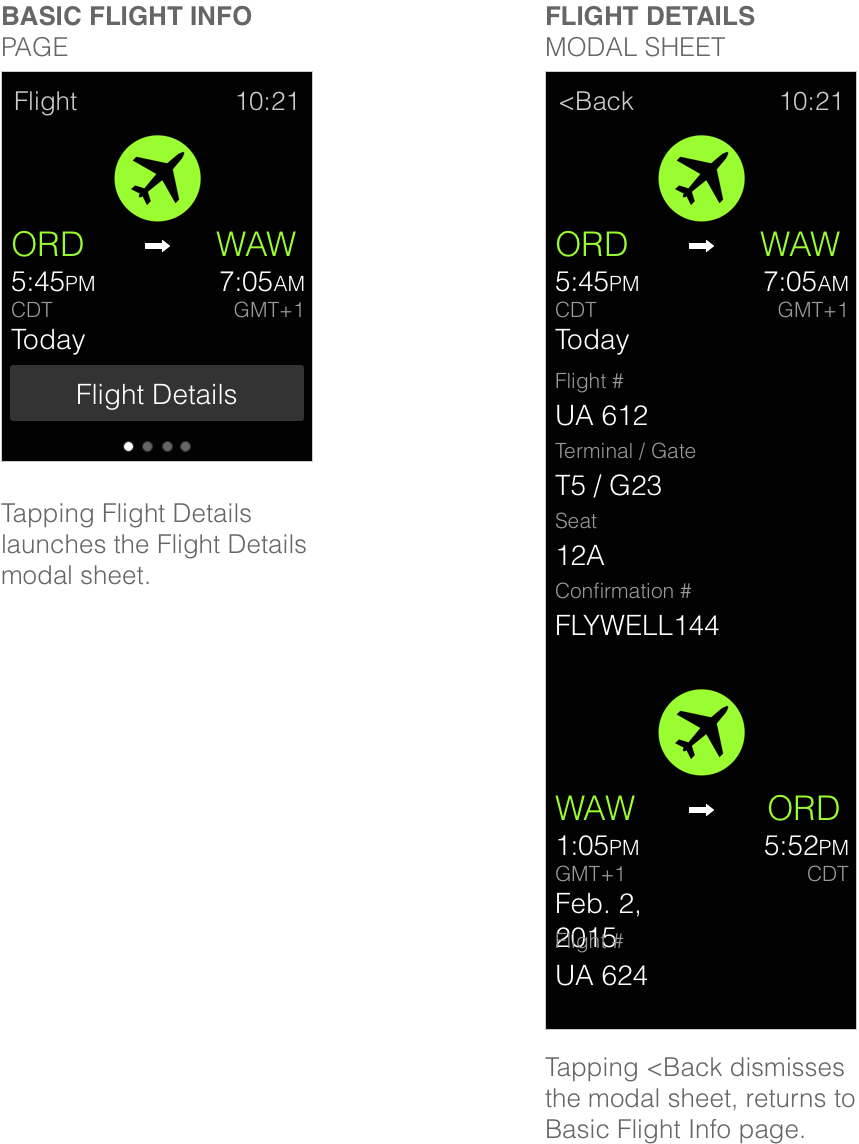 CAR RENTAL INFORMATION
What do travelers usually do after they land at their destination airports? They pick up their rental car. Where the car can be found and how to get a hold of the rental agency surfaced as important pieces of information. Pickup date and time also seemed important, especially during overnight travel.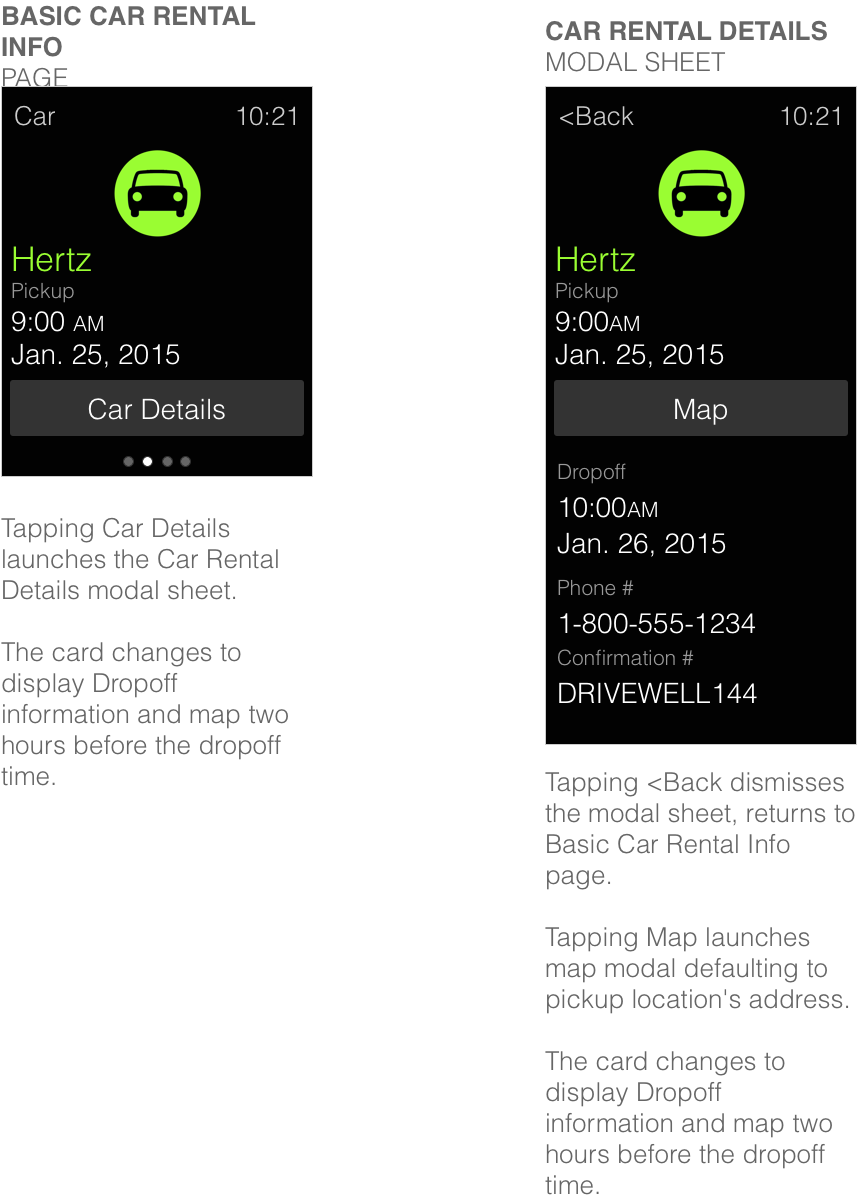 HOTEL INFORMATION
Following the previously established patterns of color usage, date, time and location...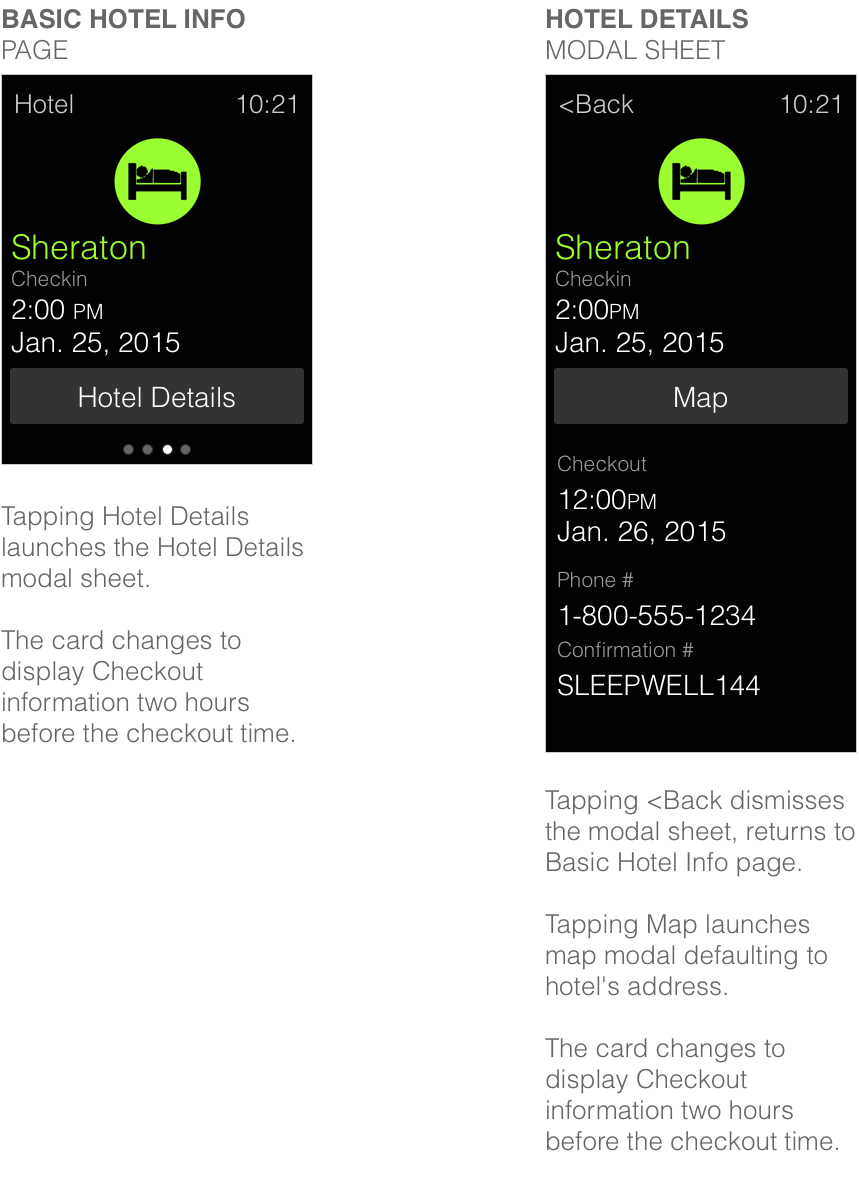 GROUND TRANSPORTATION INFORMATION
At this point the patterns were well established and it felt like we were only filling in the blanks. Carrier information, destination, time and date seemed like very obvious choices for the Ground Transportation screens. As previously established, tapping the Details button revealed more information.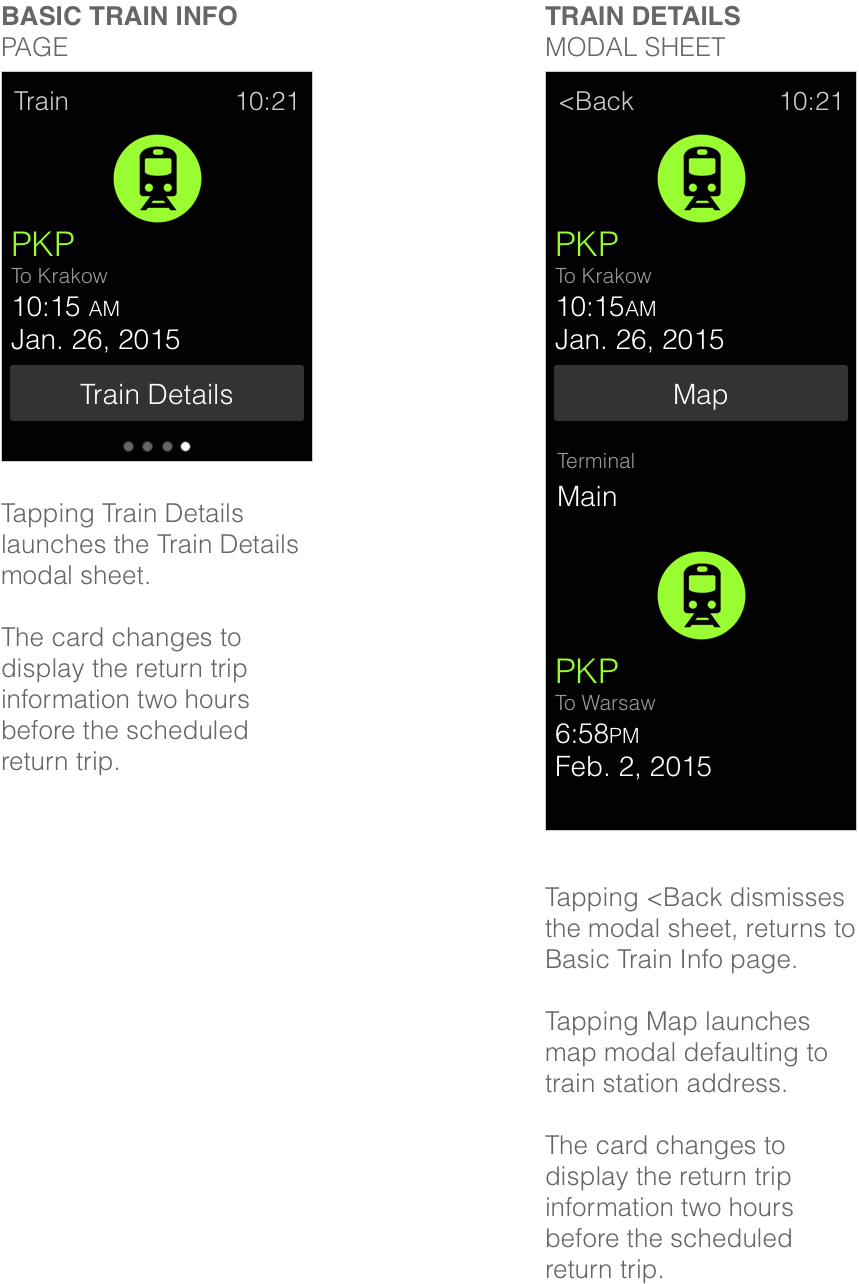 NEGATIVE STATES
What's a great app without its negative state screens.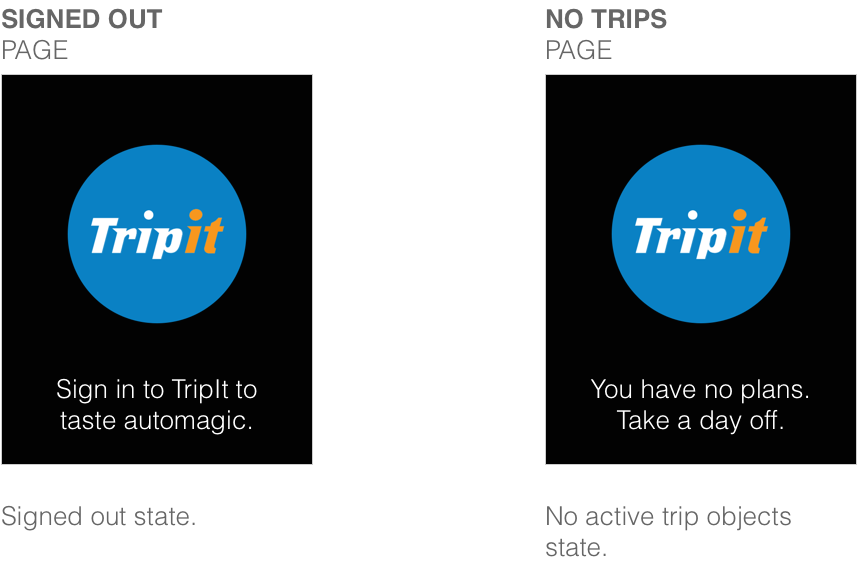 THE BIG ANNOUNCEMENT
After polishing the designs and spending two days working with an amazing developer, the prototype of the app was born. I had left the company soon after, but later stumbled upon this official video of the app's release. I have to say, it really made my day.